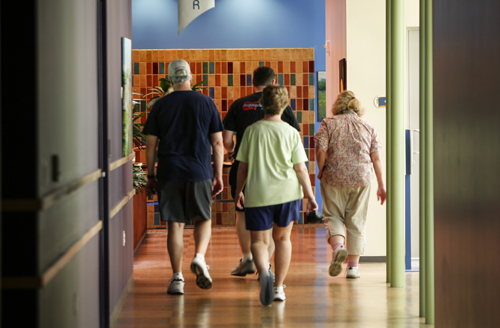 A walking path that is 1/9 of a mile and flows in and out of AL!VE – allowing for discovery and self-exploration. Video monitors line the path to provide inspirational stories and motivation.
Everyone is welcome to enjoy EXPLORE. AL!VE averages approximately 300 walkers each day, and the walking path changes direction daily. The cork flooring provides comfortable, shock-absorbing flooring.
EXPLORE also flows outdoors as a 1/5-mile outdoor walking path in PRESERVE. Located in the front of AL!VE near the Floyd M. Jewell Memorial, and dedicated in memory of Dorothy Leeser, who was a long-time Charlotte resident and community supporter, this path is available to walkers as the weather permits.
Be sure to check our the newest addition to EXPLORE, a 1/4-mile (from entry, to Foote Street and back) outdoor walking path located in the back of AL!VE.