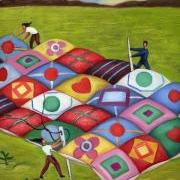 Generosity heals. Believing in the health and well-being of your community and doing something about it sets in motion a culture of generosity that lies at the heart of sustainable communities.
We invite you to become part of this tradition of helping HGB and AL!VE address the most pressing needs by joining an annual giving club. You can have an immediate impact with a recurring gift by choosing an amount and method of giving convenient for you, and joining one of these Giving Clubs.
When you join, you can choose to direct your gift to HGB or AL!VE or both:
Golden Key Club | Annual donor individuals and families
Keynote Club | Local businesses and community organizations
Keystone Club | HGB employees
Key Master Club | Annual giving club members who have achieved $10,000 or more
Joining an HGB giving club is a simple, three-step process:
Choose the appropriate giving club.
Choose an annual amount (between $100 and $1,000 per year).
Complete and sign a donation card.
All donations are added to past gift totals and recognized on a wall of excellence in the hospital. As each contribution is received, a donor's listing moves to the next recognition level. A giving club member from any of the giving clubs enters the Key Master Club when total giving reaches $10,000.
Funds from giving clubs support the day-to-day operations of the hospital and AL!VE, as well as special programs, investments in state-of-the-art equipment, or supplies for patients and families.
Hayes Green Beach Memorial Hospital is a non-prot 501(c)(3) charitable organization. No goods or services are exchanged as part of your gift. Your contributions may be tax deductible as allowed by law.