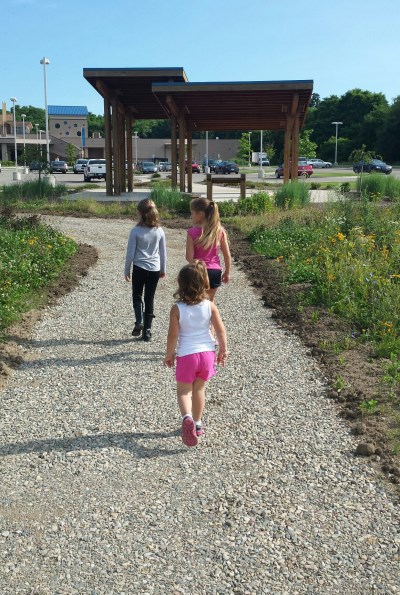 EXPLORE, the walking path at AL!VE, has expanded outside to PRESERVE, the health park's grassland prairie. The newly constructed path is 1/5 of a mile and located in the front of AL!VE near the Floyd M. Jewell Memorial.
On average, more than 250 walkers visit AL!VE each day to get their daily exercise. "Walking on EXPLORE is one of our most popular free activities," said Patrick Sustrich, AL!VE executive director. "We are excited to add an outdoor element, thanks in part to the generous donations of Eaton Federal Savings Bank and Dr. Robert Leeser, and give our guests the opportunity to enjoy the natural habitat we have been developing around AL!VE."
This part of EXPLORE is dedicated in memory of Dorothy Leeser, who was a long-time Charlotte resident and community supporter. Dr. Leeser, Dorothy's husband, along with members of the community, donated funds in her name to assist in expanding the indoor walking path outside.
"Dorothy loved to walk around Charlotte," Dr. Leeser said. "She would walk downtown almost every day with her friend, Linda Foster, before she became ill. Supporting the expansion of the walking path at AL!VE is the perfect way to honor her memory." Park benches will soon be placed along the outdoor path, including as a memorial to Dorothy.
The outdoor trail is the first of three sections that Sustrich hopes will eventually be constructed in PRESERVE. Additional future enhancements also include expanding the community gardens, which are supported and maintained by Charlotte Public Schools, building an outdoor classroom, and developing a recreational area.
AL!VE has partnered with the Barry Eaton District Health Department, Step by Step, Fenner Nature Center, Johnson's Workbench, Trees 'N' Scapes, Inc., Dowding Tool Products and Eaton Conservation District to continue to develop EXPLORE in PRESERVE, including adding interpretive signage along with new walking path.
The walking path is also part of a regional master plan for non-motorized transportation … helping to promote community walkability.
"As with most areas of AL!VE, EXPLORE and PRESERVE promote health and well-being through physical exercise, educational experiences, social activities and community connectivity," Sustrich said.
There is no cost to enjoy EXPLORE, the indoor and outdoor walking path at AL!VE. And all community members are always welcome at AL!VE, where there are no entry fees or membership requirements.