The PRESERVE at AL!VE was planted in the summer of 2012 and consists of four species of warm season grasses and more than 30 native wildflowers. The project is being developed in partnership with the Eaton Conservation District, U.S. Fish and Wildlife Service, Eaton County Pheasants Forever and the Doty Wildflower Association.
"We know many people wonder what is going on with the grounds at AL!VE," said Patrick Sustrich, executive director. "The five acres of the PRESERVE in front and to the west of the health park don't look like much now, but it is definitely a work in progress. Over the next couple of years, it will be easier to see the beauty and benefits of the project as it is planted and developed."
The Eaton Conservation District and AL!VE are seeking volunteers to help with planting the next phase of AL!VE. More than 500 native grasses and wildflower plugs will be planted from 4 p.m. to 7 p.m., Thursday, June 13. All ages are welcome to participate and volunteers are encouraged to bring planting tools and gloves.
"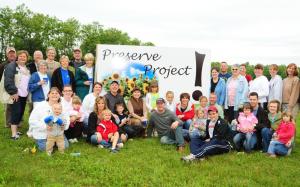 The planting will be a great family event," said Andrea Stay with the Eaton Conservation District. "In the future, this site will include walking trails and interpretive signage. This is a green addition for the whole community to enjoy, and will provide habitat, ecosystem services and a great opportunity for the public to learn more about natural areas."
Visit www.EatonCD.org for more information about native plants. Contact AL!VE at 517-541-5800, ext. 1, for more information about the planting event.