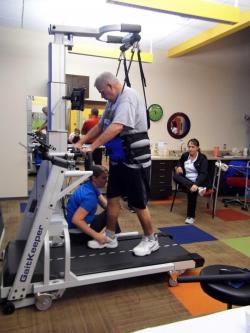 Hayes Green Beach Memorial Hospital has expanded its range and volume of treatment for physical therapy patients by purchasing a LiteGait walking therapy device for EMPOWER, where its rehabilitation services are located at AL!VE.
The LiteGait is a weight-bearing gait therapy device that allows HGB therapists to monitor patient progress, adjust walking practices, facilitate better posture, and lift patients for weight-supported walking. The device also incorporates the latest technology, which provides live, direct feedback on patient progress throughout therapy treatment.  
Kim Dickinson, director of AL!VE clinical services, discussed how this new equipment is enabling improved rehabilitation for some patients. "The LiteGait gives us the opportunity to treat patients with complex needs in a safe environment that reduces the risk of falls. We are the only facility in the area with this device and its technology, so our patients can be treated locally without needing to leave their community."
Patients interested in LiteGait therapy can speak to their primary care physician or call EMPOWER at AL!VE at (517) 541-5800.
Hayes Green Beach Memorial Hospital has been the Charlotte community's choice for health care for 85 years. HGB is committed to working together in health to provide quality care and enhance the vitality of the community. It expanded its vision beyond providing traditional hospital services to one that promotes health and well-being through AL!VE. Learn more about HGB at www.hgbhealth.com and AL!VE at www.myalive.com.
Photo: HGB physical therapists at AL!VE receive hands-on training for the new LiteGait physical therapy device.