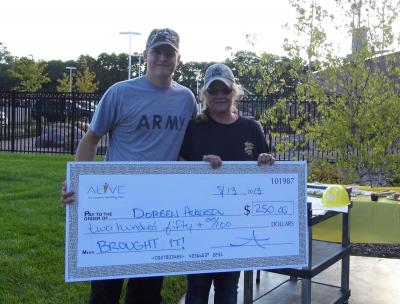 AL!VE extends its congratulations to Chef Doreen Ackerson, who was awarded $250 at the health park's recent Bring Your "A" Game Grilling Competition.
Chef Ackerson, along with her assistant and son, Private First Class Justin Russ had 30 minutes to create their award-winning dish using a pantry of 50 items and three mystery ingredients. This year's mystery ingredients were shallots, mango and fresh turkey from Otto's Turkey Farm in Middleville, Mich.
Other chefs competing included Chef Richard Taylor, who frequently teaches cooking classes at AL!VE; Chef Rodger DeLoach of Eaton Place; and Samantha Pennington and Elijah Evans of the Barry County 4-H Culinary Arts Program, who are both 14 years old. Only three points separated all five chefs in the final scoring. They were judged on presentation, use of the mystery ingredients, as well as quality and originality.
"We had a great time. If you like to cook with someone special in your life come out to the next challenge and take the title from me and Justin! He is bringing his own team next year," said Chef Ackerson. "Everyone did a great job … the teams from Barry County 4-H were very good and I wish them the best as they will be great chefs some day."
Thanks to Chef Justin Straube of the Seasonal Grille in Hastings, Mich., for helping coordinate and judge the event, as well as all audience members who attended, the other members of the judging panel, including last year's Chef's Challenge winner Larry Adams and guest judge, Mark Wagner. All proceeds from the event benefitted AL!VE located at 800 W. Lawrence Ave., in Charlotte, Mich.
AL!VE was opened in 2011 by Hayes Green Beach Memorial Hospital. It is an integrated array of health and well-being experiences and services. All mid-Michigan residents and visitors are welcome at AL!VE – there are no entry fees or membership requirements.