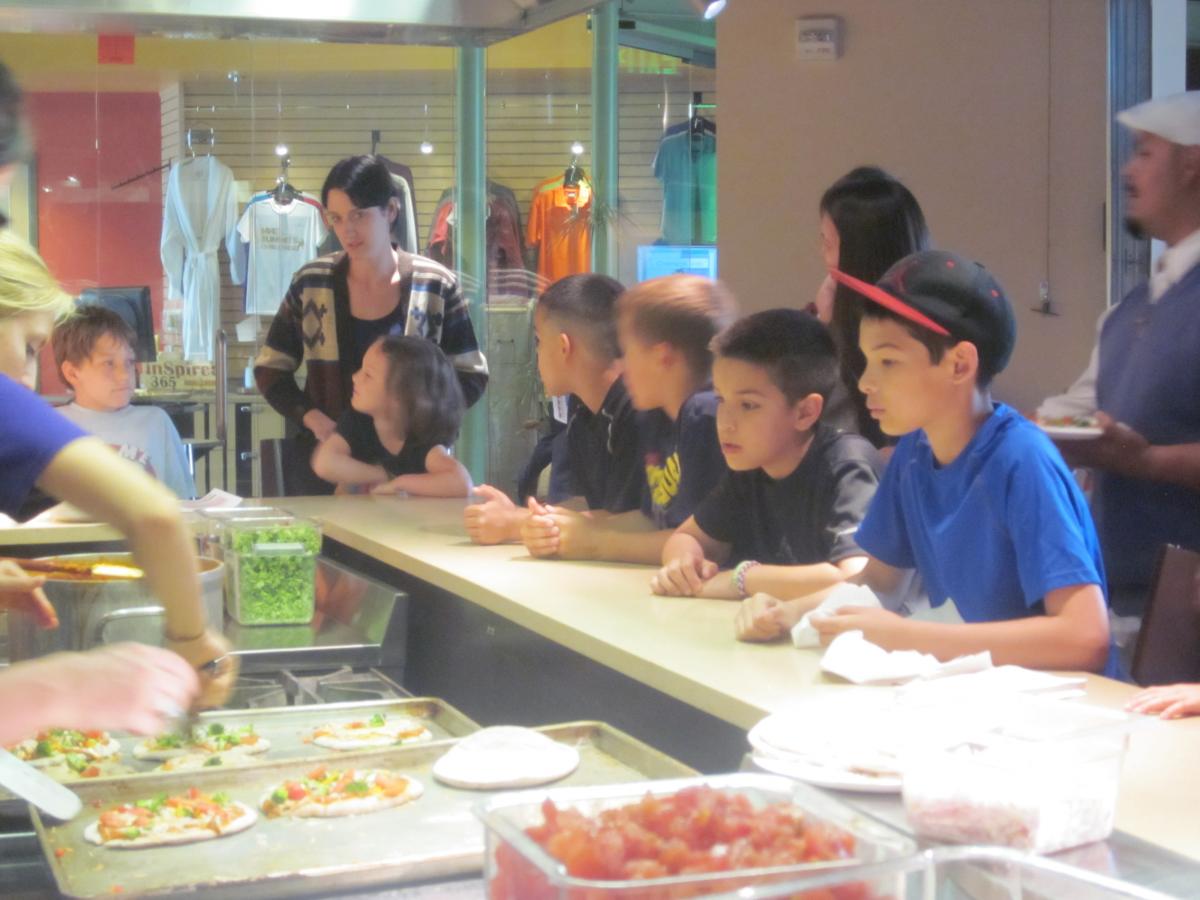 Washington Elementary students recently gathered at AL!VE for a pizza party of their own making. The students made and ate more than 80 single-serve pizzas with vegetables harvested last fall from their "pizza garden" in HARVEST, AL!VE's community gardens.
During summer 2014, Washington Elementary students planted the vegetables. Those students who participated in an after-school garden club helped tend and care for the garden into the fall. They harvested green and red peppers, tomatoes, onions, broccoli and many others, which helped them create the pizza sauce and toppings for their pizza party.
"We were amazed by the turnout for this event," said Deb Dillon, MS, registered dietitian for Hayes Green Beach Memorial Hospital. "These students worked extremely hard this year on their garden. As a result, they were rewarded with this party to celebrate their efforts toward making everyday healthy changes at school and at home." 
During the party, students also enjoyed several other fun activities like an Instagram Milk Mustache Booth, rock wall climbing on ASCEND and playing on the 36-foot indoor tree house in GROW, AL!VE's children's recreation area.
"It was wonderful to see all of the students and their parents outside normal school hours celebrating in a different facility within our community," said Mark Short, Washington Elementary School principal. "I am continuously amazed by the hard work and dedication all of our students show each and every day."
HARVEST at AL!VE currently includes pizza and salsa gardens for Washington Elementary and Charlotte Upper Elementary School. It will soon expand to include a "baby food" garden for students of Relevant Academy, as well as a variety of other garden to be planted by Charlotte Public Schools. HARVEST gardens are funded through a grant from Fuel Up to Play 60, an in-school nutrition and physical activity program founded by the National Dairy Council and the National Football League.
"We are excited about these opportunities to partner with Charlotte Public Schools to help educate kids on the importance of making everyday, healthy choices," said Patrick Sustrich, AL!VE executive director. "With the expansion of HARVEST, we are looking for even more occasions to partner with local schools and home-schooled children to provide fun and educational experiences on healthy eating and nutrition."
If you are interested in partnering with AL!VE on these kinds of healthy, educational activities, send an email to Sustrich at psustrich@hgbhealth.com.