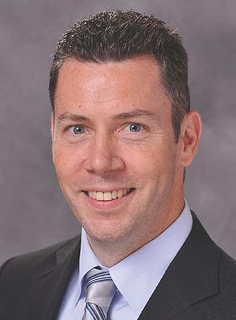 Patrick Sustrich, MS
AL!VE Executive Director
Chief Integration Officer
Patrick has worked with the organization since 2009, and was instrumental in opening AL!VE in November 2011. He has extensive knowledge in physiology, nutrition and chemistry, business administration and facility operation.
Patrick received his undergraduate and graduate degrees in exercise physiology from Northern Michigan University. While in the Upper Peninsula, he obtained extensive experience from his work with Marquette General Hospital and testing and training athletes from the U.S. Winter Olympic Team.
He subsequently opened two fitness/rehabilitation centers. Prior to joining our local hospital Patrick was the athletic and facilities director for the University Club of MSU and the CEO of Kelsey Community Wellness Center in Lakeview, Mich.
His hobbies and interests include cooking, tennis, sports, especially baseball and hockey, family outings and camping.
You can reach Patrick at (517) 541-5860 or email patrick.sustrich@sparrow.org.

Christina Campbell
AL!VE Marketing & Operations Manager
Christina manages operations at AL!VE from marketing and programming support, to facilities and communication support. She has worked at AL!VE since 2009 as a fitness instructor and RELISH cooking class instructor. Christina has a Bachelor of Arts degree in visual communications design and marketing from Purdue University. Her background includes nearly 10 years of account management experience cultivating relationships with clients and seeing projects through to ensure goals and objectives are met.
Christina currently serves on the Can Do! Marketing committee as well as the Touching Souls Foundation board. Her hobbies and interests include spending quality time with her family - specifically her husband and two young children, participating in CrossFit, entertaining friends, traveling and sports - both spectating and participating.
You can reach Christina at (517) 541-5812 or email christina.campbell@sparrow.org.
Jake Campbell
Director of Health and Wellness Services
Jake has been with the organization since 2007. He has played a vital role in the transformation of MOVE, AL!VE's fitness center, and also with the improvements in patient experience, operational success and overall quality of care of the hospital's Cardiopulmonary Rehabilitation Program.
He is a graduate of Michigan State University with a Bachelor of Science Degree in Kinesiology and has specializations in health promotion and coaching. His background includes experience in strategic planning, corporate wellness, worksite wellness, employee wellness, event coordination, project management, personal training, coaching and is a two-time recipient of the Fulton Award of excellence.
He enjoys playing sports with friends, games with his kids, relaxing with his wife and watching MSU athletics.
You can reach Jake at (517) 543-1050 ext 52461 or email jacob.campbell@sparrow.org.

Kim Dickinson
Director of AL!VE Clinical Services
Kim oversees EMPOWER and clinical operations at AL!VE including physician clinics. She has worked with the local hospital for more than 25 years and played a key role in moving rehab services to AL!VE. Kim has an associate's degree in applied sciences from Davenport University, and her clinical background includes manual therapy, certified aquatic therapy, experience with chronic pain management and wound care. Her areas of interest also include general orthopedics and sports injuries.
Kim's hobbies and interests include spending time with her grandkids, traveling, outdoor sports and activities, MSU sports, cooking and reading. 
You can reach Kim at (517) 541-5814 or email kimberly.dickinson@sparrow.org.

Hailey Jungel
Group Exercise Coordinator/Creationaire
Hailey joined the AL!VE team in January of 2019. She currently oversees AL!VE's group exercise programming and instructors. She also aides in AL!VE's marketing efforts and enhancing the elements of experience as a Creationaire. Hailey presently serves as a board member for the Charlotte Chamber of Commerce.
Hailey has her Bachelor of Arts degree in sports and recreation management and a minor in marketing. 
Hailey's hobbies include spending time with friends and family, being active and enjoying the outdoors. She has a strong passion for coaching, playing and spectating athletics.
You can reach Hailey through email at hailey.jungel@sparrow.org.
Amy Wilkes
GROW Manager
Amy has over eight years of experience in childcare. During those eight years she spent the majority of her time as a lead teacher in infant and toddler classrooms. She has overseen many succesful activities and projects in the childcare industry. She has a true passion for working with children of all ages and watching them grow and develop. Amy obtained her Child Development Associates Certificate in childcare from Kellogg Community College.
Amy's hobbies include spending time with her two children and husband - going to sporting events and watching them play. Amy enjoys traveling, crafting, taking Zumba classes and visting friends and family back in her home state of Wisconsin.
You can reach Amy at (517) 541-5803 or email amy.wilkes@sparrow.org.
Kim Freiburger
AL!VE Events Manager & Women's Health Liason
Kim leads the Guides who greet each AL!VE visitor.  Her team is always available to help navigate the facility, as well as your health and well-being.  She also handles the events that are booked at AL!VE and is responsible for creating and executing an experience-based service for all of our guests.
Kim previously worked as a nurse for five years prior to the opening of AL!VE in 2011. She is a member of the Michigan Nurses Association, serves on the Employee Service Association Committee, the Employee Experience Committee, and the Charlotte Performing Arts Center Friends Board.
Kim relishes sunny days on the beach and baking using new recipes.  She enjoys dining out with family and friends and cherishes time spent with her children.
You can reach Kim at (517) 541-5811 or email her at kimberly.freiburger@sparrow.org. 
Angela Noble
FUSE Manager
Angela came to AL!VE in 2006 to open and oversee FUSE. She has been an esthetician since 2000 and prior to coming to AL!VE she taught esthiology for Douglas J Aveda Institute. She has a passion for skincare and makeup. She accepts guests here 1 day each week.
Angela's true passion is being a great mom and wife.
You can reach Angela at (517) 541-5886 or email angela.noble@sparrow.org.