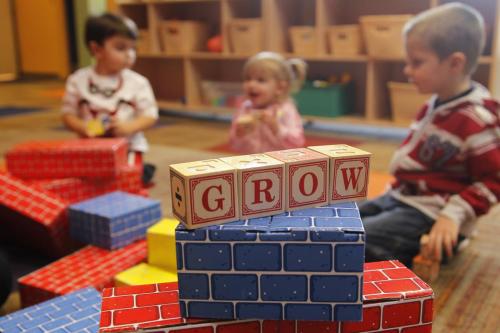 A recreation and enrichment area for children ages three months to 12 years of age. Parents can experience AL!VE's array of integrated health and well-being experiences and be reassured knowing their children are well-cared for and having fun in a safe, positive environment.
A daily flexible schedule incorporates arts and crafts and other activities within GROW's spaces, including:
CHILL – a preteen loungefor homework, computers, games and puzzles for 8-12 year olds.
PLAY – outdoor play equipment for children through age 12.
GIGGLE – indoor tree house play structure with views outside for children through age 12.
LEARN – a multi-purpose area offering a variety of children's programming.
There is a two-hour maximum per visit. Reservations are required children three months to two years old.
Hours
Monday – Thursday: 8 a.m. to 12 p.m., and 4:15 p.m. to 8 p.m.
Friday: 

8 a.m. to 12 p.m., and 4:15 p.m. to 7:30 p.m.

Saturday: 

8 a.m. to 12 p.m.

Sunday: 9 a.m. to 12 p.m. (Seasonal - excludes June through August)
Cost
$5 per child per visit for AL!VE guests
$4 per child per visit for MOVE members (Ask about our GROW membership!)
GROW memberships are available to MOVE members for a flat, monthly rate of $17/first child and $11/additional child (same household). 9- to 12-year olds can attend Bootcamp, PiYo and Zumba with their parents for FREE with their GROW membership. Additionally GROW members received reduced or FREE rates on children's programming offered at AL!VE.
We also do party packages to help you CELEBRATE! events such as birthdays, team outings and more. Click here for more details.
Call (517) 541-5803 for more information or to make a reservation.