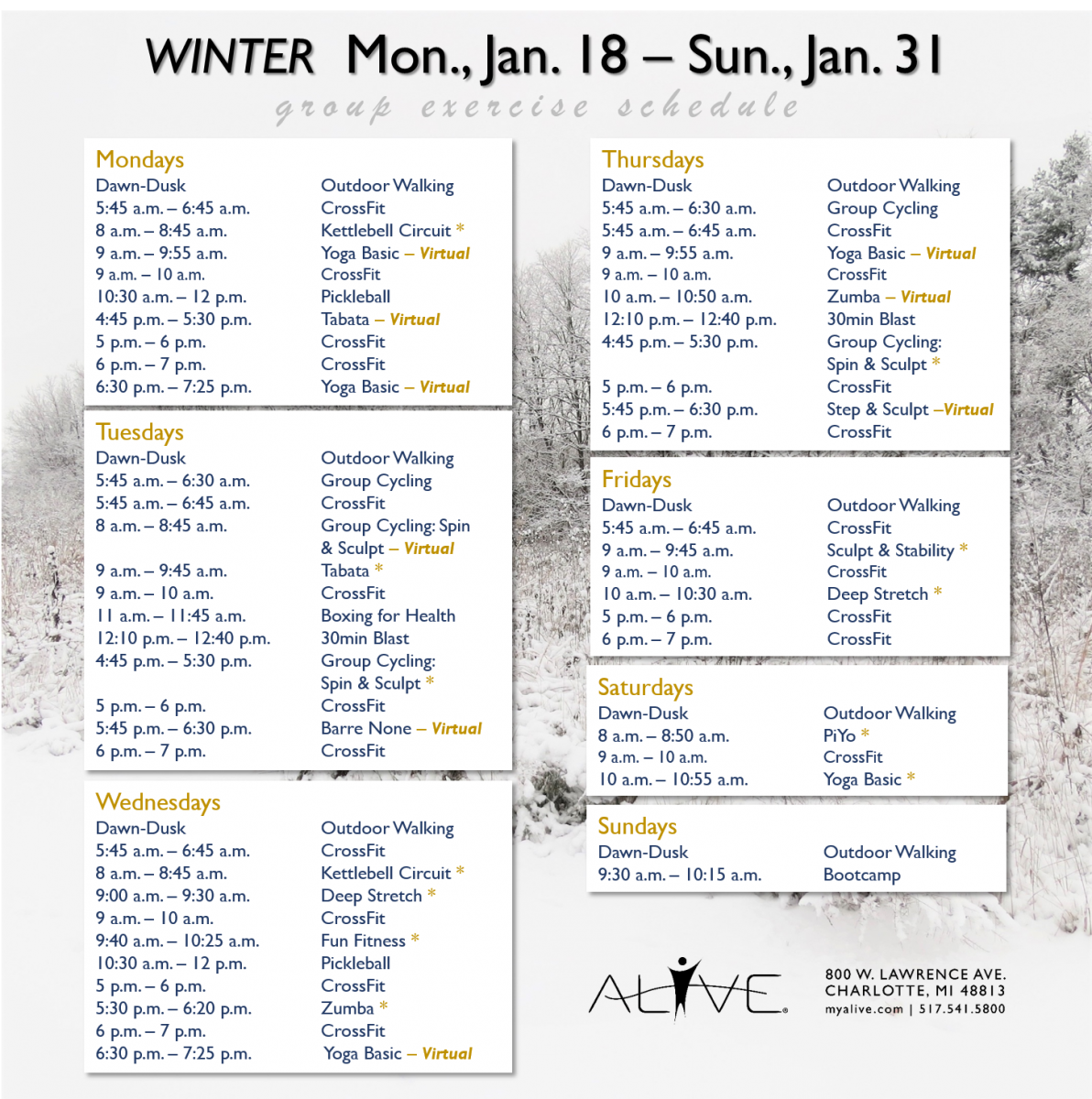 View the current Group Exercise schedule here! 
What to expect:
• All classes will be held in ENERGIZE excluding CrossFit and Pickleball.
• Classes denoted "-Virtual" will be a pre-recorded class played on the screen in ENERGIZE.
• Classes denoted " * " will be live-streamed through our virtual membership.
• Attendance will be limited to only individuals participating in class. NOTE: Children ages 9-12 years old who have completed Little Lifters orientation are permitted to exercise in MOVE or participate in group exercise classes under parental supervision.
Registration:
Pre-registration is advised for all programming as there will be limited capacity. Register early to ensure a spot – classes fill quickly. 
Three convenient registration methods: 
• Log in to myalive.com 
• Using the MyAlive mobile app 
• Call (517) 541-5800, opt. 7,
Safety & Sanitation Guidelines 
The following guidelines are in place to help everyone enjoy a safe, exceptional experience at AL!VE: 
• All building entrants must be screened (includes temperature check). Please allow for possible wait times. 
• Masks must be worn at all times when in the building.
• Social distancing will be enforced. A minimum of 6' from others outside of your household is requested. 
• Time has been set between most programs to allow for transition time and cleaning. 
• Sanitation stations will be available at all programs.
• Capacity limitations have been established for all programs to allow for adequate social distancing and safety. 
• If you have been in contact with anyone in the last 14 days who had a confirmed diagnosis of COVID-19 or if you have experienced any of the following symptoms within the 24 hours prior to a program, please refrain from attending: temperature of 100.0 degrees or higher, cough, shortness of breath or chest tightness, sore throat, nasal congestion/ runny nose, myalgia (body aches), loss of taste and/or smell, diarrhea, nausea, vomiting, fever/chills/sweats, rash.
The AL!VE program guide is temporarily suspended, due to MDHHS restrictions. We apologize for any inconvenience.
The program guide is organized by six key areas:
DO describes programs that involve action and movement.
BREATHE describes programs that focus on relaxation and living in the moment.
EAT describes programs that involve food and nutrition.
SUPPORT describes group programs that involve discussions on topics of personal interest and need.
THINK describes programs that focus on learning and educational opportunities.
GROW describes educational and activity-based programs designed for kids.
If you have any questions, please call (517) 541-5800, opt. 7. 
Any cancelled programs will be posted here.